Valuable Benefits of LEED Developments and Sustainability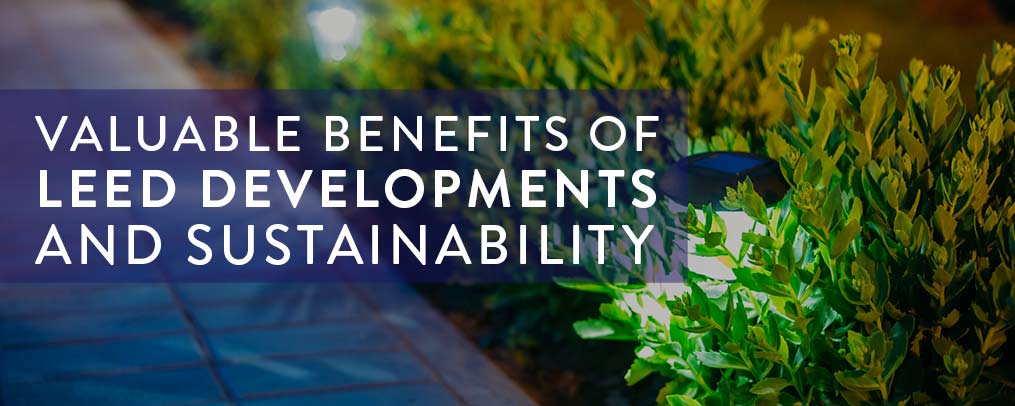 LEED, Leadership in Energy and Environmental Design, is the leading initiative in sustainable buildings and communities. As a recognized leader in sustainable construction and design, LEED has become the new industry standard and comes along with a multitude of benefits. Green building and renovation is becoming an important asset to real estate with an estimated 20 percent of all new construction being LEED certified—and that number is growing every year—especially if the development is institutionally owned or developed. So where does the value come from?
Helping the Environment
Sustainability has been a global movement to help the environment, and LEED has played a crucial part in supporting sustainable construction and design. Not only are LEED-certified buildings resource efficient, but they also improve indoor environmental quality, while also reducing greenhouse gas emissions. These developments also have a focus on saving water and being energy efficient by consuming 25 percent less energy and 11 percent less water, which ultimately increases the lifespan of the buildings as well as benefitting the environment. The cost of operations is also positively impacted, with savings of up to 40 percent by reducing energy and water bills.
Community Prosperity
While LEED developments provide benefits in many aspects, sustainability ultimately affects the surrounding community. Not only do LEED projects gain positive publicity, but they foster a positive relationship with the members of the community and promote a prosperous environment. People are flocking to LEED developments to reap the benefits. This move towards LEED communities and tenant space is causing an increased demand—which results in residents and tenants paying higher amounts. Compared to non-green properties, LEED-certified buildings have actually shown a higher rent average and a lower vacancy rate (4 percent lower than non-green properties), proving that LEED buildings are in high demand. Not only are LEED buildings in high demand, but they also attract the millennial workforce. As more of the younger generation is becoming environmentally aware, they're making sustainability one of their focal points when looking for their next company move. This has caused many organizations and businesses to only lease space in LEED-certified buildings to better their reputation and attract the younger talent.
Harlequin Plaza, one of the many LEED developments in Colorado, is a suburban office complex in Greenwood Village, CO, that is certified LEED Silver.
Healthy Living
With people in the U.S. spending 90 percent of their time indoors, LEED-certified buildings are providing cleaner indoor environmental quality, which is improving occupant health. A study shows that employee health and worker productivity are also improved within LEED-certified tenant spaces—compared to their counterparts in non-green spaces, employees have a 16 percent higher labor productivity rate. Retrofitting buildings with water-efficient fixtures can eliminate almost 80,000 tons of greenhouse gas emissions, which improves air quality indoors and outdoors.
Close to Home
There's over 15.6 billion square feet of LEED-certified building space worldwide, so it's no surprise that there's plenty of LEED-certified buildings in the heart of Colorado. Located in the outskirts of Denver, the Denver International Airport (DIA) Hotel and Transit Center is a LEED-certified property. DIA wanted to have a positive impact on occupants and promote clean energy while saving money and resources. With many LEED-certified buildings scattered around the world, sustainability is becoming one of the leading goals for organizations and DIA wanted to embrace this.
Making a difference in the environment and in the community is what every developer dreams of. Simply put, LEED is the international standard for green building and is becoming international acclaimed. With sustainability becoming one of the leading options in the world, it's hard to see why a developer wouldn't aim to be LEED-certified. LEED is a valuable option for any type of development and the benefits are proving to be a success.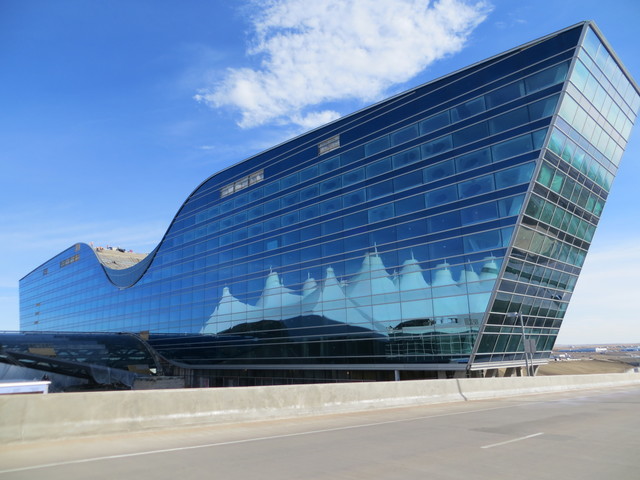 Denver International Airport Hotel and Transit Center – Denver, CO