The Growth of Mixed-Use Developments and Suburban Living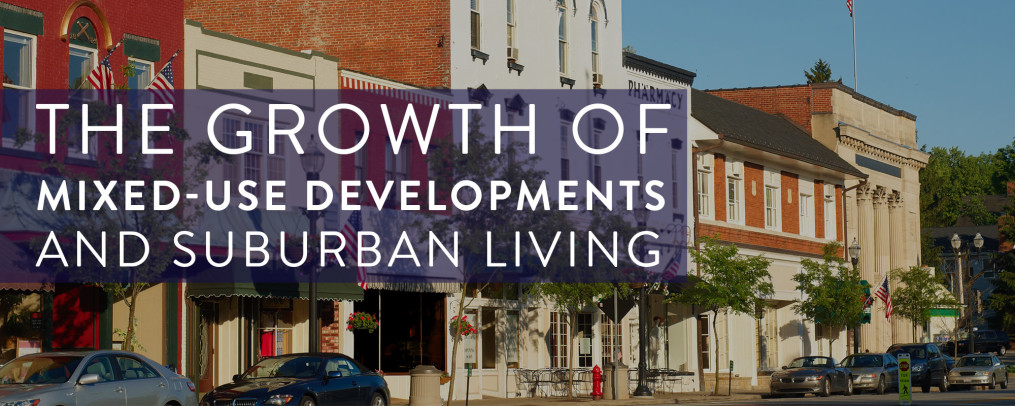 With New Urbanism on the rise, there's no question as to why people are looking for communities that have walkability. The benefits of walkable mixed-use communities are proving to be a hit among millennials, causing demographic changes to shift consumer preferences. With mixed-use environments and lifestyle centers becoming a positive development trend, the days of strip malls and enclosed shopping centers are slowly coming to end. But what makes these mixed-use communities so appealing, and what are their benefits to the community?
Mixed-use communities are nothing new. Historic main streets were built around the idea of having people walk down the street to restaurants, stores, hotels, and even their own living spaces. These areas are essentially a focal point to a community and create vibrant activity where retail, residential, and entertainment spaces are lively at all times of the day.
Mixed-use development is becoming increasingly desirable due to the benefits that come along with it. Single-use development has proven to be a challenge due to longer commute times, high costs for a single-use space, and the general lack of interest from millennials. In contrast, mixed-use developments are appealing to more and more people — not to mention the community enjoying more of the benefits. For example, these developments provide unique qualities that increase value within communities, and provides a destination with multiple uses for visitors to enjoy — be it, living, retail, entertainment, dining, employment, or hospitality.
The growth of online retail is also a factor in the increased demand for mixed-use areas. Big-box stores are starting to downsize due to simply no longer needing to keep vast amounts of stock for in-store shoppers, which allows for smaller square footage. These smaller "right-size" stores are giving space for more retail, dining, and entertainment, which in return provides a community destination with a true experience where people can go to for multiple reasons.
In addition, office space is experiencing changes that lends it to be well-suited for mixed-use areas. As businesses begin putting their employees first, location becomes a top priority for attracting and retaining talent. There is an increased interest in employees putting an emphasis on the live-work-play mindset and flocking to areas that mix office, retail, dining, and living. In addition, shared working spaces and the ability to work from anywhere has caused office tenants to relocate to mixed-use areas and downsize their office space. Not only does this provide benefits to tenants, but it also gives the area an active community and allows employees the opportunity to be near amenities.
Overall, many commercial developers have acknowledged these trends and have implemented them in their new developments. Taking advantage of the benefits and providing what people want is a recipe for success, especially in the ever changing retail landscape. With retailers and offices requiring less space, unique mixed-use spaces are proving to be of higher interest and consumers are valuing them more than before.