How New Urbanism Neighborhoods Easily Improve Suburban Growth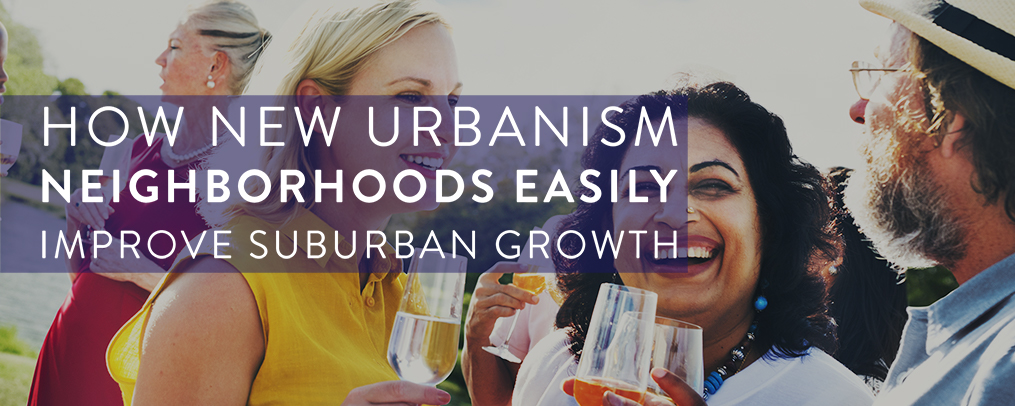 America's car dependency from heavy work traffic to spread out suburbs is becoming less and less attractive to renters and suburban residents. In fact, young professionals would rather take a short public transit ride to work, bike to the grocery store for their weekly shopping, or walk to their favorite bar or restaurant to relax at the end of the day. Powerful movements are bringing these demands to life. Some calling it New Urbanism, this shift is bringing the city lifestyle into the suburbs and evolving communities into a live-work-play environment where people have quick access to everything they need. Young professionals are the future of suburban growth and they know what they want — and when they're looking for a place to live, they want areas built around the New Urbanism philosophy. 
Something New for Suburbs
Simply put, New Urbanism is a planning and development approach based on the principles of how cities and towns have been built for the last several centuries: walkable blocks and streets, housing and shopping in close proximity, and accessible public spaces, according to Congress of New Urbanism (CNU). Common examples of New Urbanist neighborhoods embrace mixed-use developments that connect all aspects of life into a walkable, condensed, and sustainable destination.
Therefore, walkability is one of the major focal points of New Urbanism. The ability to walk from your apartment to the grocery store, a restaurant, to work, your gym, or a running trail is something that is extremely sought-after in a community destination. Residents often indicate walkability as one of the greatest features a neighborhood can offer, and while a pedestrian-friendly community may immediately appeal to millennials, it's actually beneficial and desired by all ages. This rise in suburban living will continue according the ULI report, Demographic Strategies for Real Estate. "More retail stores will be transformed into places that sell experiences, rather than goods, and more developments will combine housing and retail to satisfy consumer demand for places that offer convenient, car-free shopping," reports by ULI.
This lifestyle connects communities and conveniences for residents, and is picking up in popularity in successful suburban developments. Studies show that close proximity to grocery stores, restaurants, public transit, and office destinations is a huge driving point in residents' wishlist.
Live-work-play community at Austin Ranch The Boat House with retail and apartments intermixed.
Biking, one of the leading transportation options for the dominant millennial generation, is also proving to be a big hit with all generations in new communities. With the rate of people getting their driver's license decreasing, environmental impacts of carbon dioxide, and the steep prices in gas and toll fees, the need for access to bike lanes, trails, and accessibility is increasing. People see biking as a viable transportation option, and with its proven environmental and health benefits, it's clear that communities need to provide safe ways for these people to promote the bicycle lifestyle.
Embracing the New Neighborhoods
Not only does a New Urbanist neighborhood attract a wide variety of professionals to the area, but it actually makes the community more desirable economically. The success of these communities demand premiums in the housing market, with people paying more to be in a community with easy access to walkable locations and bike trails. Residents in a walkable neighborhood command a premium of about $4,000 to $34,000, and people are paying the dramatic difference just to have access to the nearby community amenities. But is it worth it? Most young professionals think it is.
For example, a resident would rather pay more to live in a walkable community. A ten-minute drive to the grocery store each week is less desirable to many residents than the ability to walk to get their groceries. While a short drive to the store may seem normal to older generations, younger professionals are hanging onto the idea of a city life. The city life is something residents want without the troubles of living in a bustling city, which is why New Urbanism is a growing, feasible solution. Bringing aspects of the city to the suburbs gives residents the same appeal as living downtown, but also gives them the communal, suburban flair that they're looking for.
While walkability helps a community become more vibrant and alive, there's also a significant trend in corporations moving to these areas that are bursting with young talent. The war for top talent is clear. Companies are moving to areas where the sought-after talent lives and choosing locations based on where they want to work. Noted by CNU, today's prospective office tenants prefer amenity-rich mixed-use centers (also known as "live-work-play" locations) over single-use office parks by a margin of 83 to 17 percent, according to a 2014 study by the NAIOP Research Foundation.
The opportunities for jobs in a mixed-use area ultimately increases the overall prosperity of a community and promotes a healthy work environment for professionals. With the close proximity to innovative corporate jobs, outdoor access, and walkable retail, New Urbanist communities provide the perfect setup for the live-work-play lifestyle.
A Site of Success
Let's take a look at a real-life example. Austin Ranch is a development nestled near Frisco, Texas. Austin Ranch embraces the live-work-play lifestyle by bringing a mixed-use development to the community where residents enjoy the lifestyle they are craving: they're able to walk out of their apartment and down the street to get their haircut, have lunch with friends, or take a quick bike ride.
A walkable, sustainable neighborhood, Thousand Oaks Apartments, at Austin Ranch in Carrollton, Texas.
According to an interview through Construction Dive, "Businesses want to be part of these developments because, simply put, that's where the customers are." For instance, tech company Sanyo Energy moved their headquarters from the city of Frisco to the Austin Ranch community in order to "increase the visibility of their brand," explains developer Lucy Billingsley. In addition, health care giant, AmerisourceBergen plans to move thousands of employees to the mixed-use development because it's where the workforce and their lifestyle is at.
Simply put, those that don't adopt the progressive movement towards reimagining suburbs will be left behind. Demand drives community growth, and when there's no sign of meeting the needs of businesses, professionals, and residents, the community can't thrive in comparison to surrounding neighborhoods. The proven success of these mixed-use communities are trending towards a larger movement for sustainability, suburban growth, and embracing a health-oriented lifestyles.