How an Active Community Fosters a Better Well-Being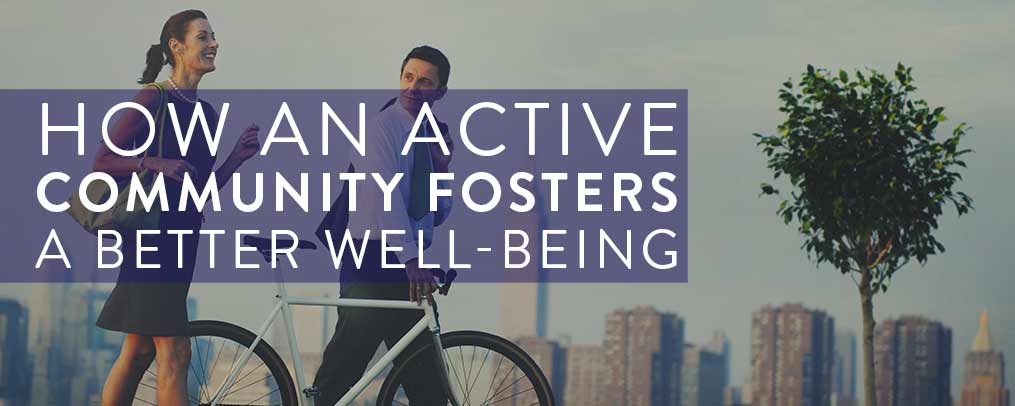 We all strive to live healthy lives, but sometimes our lifestyles get in the way. What if our communities encouraged healthy lifestyles and supplied active-oriented amenities right in our backyard?
According to a study by Gallup-Healthways Well Being Index, communities that invest in an active infrastructure are more likely to have happy, healthy residents. These active communities embrace bike paths, neighborhood trails, public transportation — anything to improve walkability. And the correlation makes perfect sense. When surrounded by health-oriented infrastructures, communities both encourage the lifestyle and attract health-conscious residents.
Gallup-Healthways' report found that the five highest ranking active living communities in the U.S. have significantly lower rates of obesity, smoking, high blood pressure & cholesterol, diabetes, and depression.
Compared to the lowest ranking active living communities, Gallup reported residents in active communities boasted better exercise habits, healthy eating, and fresh produce consumption, while the least active communities have a 6% higher rate of obesity and smoking habits. And, with a 3.6% lower rate of depression in active communities, neighborhoods built with walkability in mind truly offer happier environments for all ages.
In this case, if you build it they will come. Communities built with a healthy lifestyle in mind, foster healthier habits. This proactive approach in development design stimulates healthier neighborhoods that eventually will lead to a healthier nation.
Behind community well being
While the health benefits of an active community development are clear, how do you judge your community's well being? First, take a look at your well-being score, which includes an average of your metro's active living score, walk score, bike score, transit score, and park score.
For reference, the top active metros received well-being scores of 71.2 or higher, while the least active average a well-being score of 33.0 or lower. Aiming for a score around the 60s will be a good indicator of your community's positive well being. Let's break down each score:
Walk score: The walkability of an area includes the distance to nearby amenities in various categories, in which the walk is under 30 minutes. Data shows a strong relationship between a high walk score and if housing is ideal for you and your family (according to Gallup-Healthways).
Bike score: A quantitative measure of the bikeability of a location based on available bike lanes, hilliness, road connectivity, nearby amenities, and the percent of people in that area who bike to work (according to Forbes). Data shows a strong relationship between a high bike score and lower obesity, diabetes, and smoking rates.
Transit score: An algorithm that calculates scores by summing the relative "usefulness" of nearby routes, as in the distance to the nearest stop on the route, the frequency of the route, and type of route (according to WalkScore). Data shows a strong relationship between a high transit score and lower daily physical pain.
Park score: The points awarded to a city for acreage based on median park size and parkland as a percentage of city area. Also factoring in importance of larger "destination parks" that serve many users who live farther than ten minutes' walking distance (according to ParkScore). Data shows a strong relationship between a high park score and lower heart attack incidences and blood pressure rate.
Active living score: The average of the four scores listed above that determines how active a community is and if residents can enjoy better outcomes in key aspects of well-being, which can be broken down by all U.S. communities to small, mid-size, and large (according to Gallup-Healthways).
>>    To view these statistics and more data, visit Gallup-Healthways to download their reports on well being.    <<
A closer look at Colorado
Keeping all of this data in mind, let's take a look at these numbers a little closer to home. With not much shock, Colorado ranked the No. 4 state with best well-being in 2015, being a highly active-living state. Given the general active nature and lifestyle of Colorado natives, there's probably no surprise here.
On the community level, Fort Collins and Boulder, CO ranked No. 4 and No. 7 respectively on the overall U.S. 2014/2015 Community Rankings within the Highest Quintile, and No. 4 and No. 5 on the Highest Well-Being in Mid-Size Communities (see chart). In comparison, Denver-Aurora-Lakewood, CO ranked No. 50 on the overall U.S. 2014/2015 Community Rankings within the Second Quintile.
| | | |
| --- | --- | --- |
| | U.S. 2014/2015 Community Rankings            | Highest Well-Being in Mid-Size / Large Communities |
| Fort Collins, CO | No. 4   (Highest Quintile) | No. 4 |
| Boulder, CO | No. 7   (Highest Quintile) | No. 5 |
| Denver-Aurora-Lakewood, CO           | No. 50 (Second Quintile) | Not listed |
Central Colorado Breakdown
What makes Fort Collins and Boulder rank higher than Denver? New Urbanist neighborhoods and mixed-use developments help build these convenient, walkable, and transit-oriented communities that provide a better lifestyle for residents.    
Projects with a focus on growing these neighborhood-wide amenities are scoring better and fostering healthier, happier residents. For instance, Foothills in Fort Collins is a mixed-use development that combines residential, retail, and office space with bike paths and pedestrian connectivity. The development embraces expansive open and green spaces, as well as sustainable practices.
Similarly in Boulder, a mixed-use New Urbanist community, Bradburn Village, has four distinct neighborhoods that are easy walks from the pedestrian-friendly village core. Surrounded by shops, restaurants, office space, a regional open space trail system, and a mix of a residences interspersed with parks and community centers, this community checks all the necessary boxes for active living.
While in contrast, The Denver-Aurora-Lakewood area is well-positioned for a mixed-use development to increase its well-being score and walkability in order to foster community growth.