A War for Workforce: Leveraging Location to Attract & Retain Talent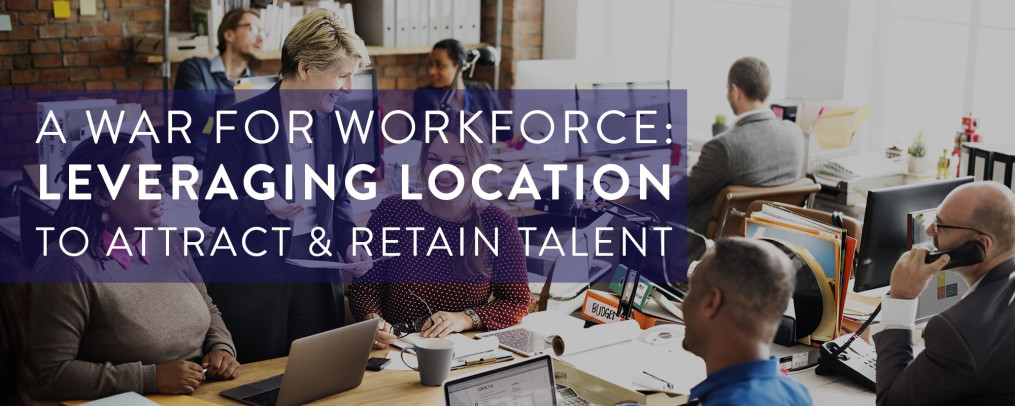 In the ever-competitive labor market, businesses are challenged to embrace unique approaches to attract and retain top-tier talent. At the same time, professionals are extra empowered to choose their own destiny, looking for companies that offer the best benefits, culture, and location. More specifically, millennials are the rising workforce who idealize these elements when making career choices.
How are businesses responding? Very strategically.
War for Talent
As the number of qualified workers is decreasing and demand is increasing, there is a clear tension among businesses struggling to fill vital positions. CBREVoice recently covered the issue, making note of the changing environment directed by millennials. In their infographic below, they conclude 75% of millennials work in large towns or cities, while 55% find small or medium-sized towns "fairly" or "very" appealing.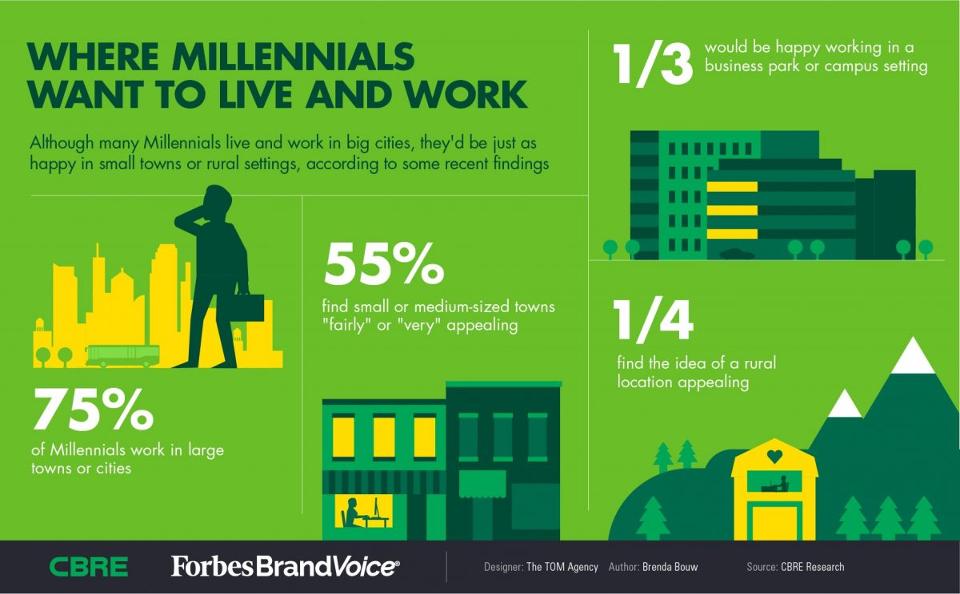 CBREVoice Where Millennials Want to Live and Work
In order to reach this crucial percent of the workforce, businesses are strategically leveraging talent acquisition efforts to win over the sought-after professionals. With demand high and workers in short supply, businesses are turning to emerging markets when relocating or opening new offices to rise above the clutter.
Emerging Markets
While big cities continue to attract the millennial workforce, smaller towns or secondary markets are quickly becoming an inviting hotspot for millennials looking to settle down in a family-oriented area that still meets their demands. With lower real estate costs and a more suburban feel, coupled with ample amenities, these markets offer a pleasant environment for young professionals. These markets also supply the live-work-play environment of big cities, yet are more suited for raising a family. While millennials do enjoy this trend, they're not the only age range to be attracted by emerging markets — so don't put all your efforts in one basket.  
In the large tech talent markets, CBRE pointed out the cities that are experiencing the largest change in millennial population between 2009-2014. Washington D.C. topped the list with 25.8% of change, while Silicon Valley cities remained high on the list. Smaller markets included Salt Lake City, UT with 23.7% of change and Richmond, VA taking the No. 2 spot.
Location Strategy
More than a third (38 percent) of employers in the United States report difficulty in filling jobs, according to a recent ManpowerGroup survey. With this issue on the rise, businesses are looking to location strategy to fill the gaps. The "lead-with-labor" approach puts the emphasis on attracting top talent by carefully choosing a location that employees are moving towards. More specifically, mixed-use developments that combine office space, retail, and dining into one city-center destination provide workers with a strong incentive. Giving young professionals a destination where walkability, convenience, and community culture prevails helps a professional rationalize a career move.
If relocation is in the budget, business can benefit from the secondary or tertiary business markets where costs can be reduced by 50 to 70 percent, according to CBRE. Not to mention, these markets also offer workers a lower cost of living.   
For more statistics, data, and insights into how the labor market is being approached, take a look at CBRE's white paper: "Aligning the Workforce and the Workplace".